101 Dalmatians / One Hundred and One Dalmatians 1961 / EUROPEAN COLLECTOR'S EDITION / 101 Kiskutya / DVD 2 Disc extra változat rajzfilm / Walt Disney Productions / Story by Bill Peet
101 Dalmatians / One Hundred and One Dalmatians 1961 / EUROPEAN COLLECTOR'S EDITION / 101 Kiskutya / DVD 2 Disc extra változat rajzfilm / Walt Disney Productions / Story by Bill Peet

Product Description
101 Dalmatians/ One Hundred and One Dalmatians 1961 /

EUROPEAN COLLECTOR'S EDITION / 101 Kiskutya / DVD 2 Disc extra változat rajzfilm / Walt Disney Productions

UPC 5996255726220
REGION 2 PAL DVD
THIS DVD IS OUT OF PRINT! Super rare Collector's Edition with lots of EXTRA FEATURES!
Audio options: Hungarian, English, Czech, Slovakian, Arab
Subtitle options: English, Hungarian, Czech, Slovakian, Arab
Playtime 77 minutes
One Hundred and One Dalmatians, often abbreviated as 101 Dalmatians, is a 1961 American animated adventure film produced by Walt Disney and based on the 1956 novel The Hundred and One Dalmatians by Dodie Smith. The 17th Disney animated feature film, the film tells the story of a litter of Dalmatian puppies who are kidnapped by the villainous Cruella de Vil, who wants to use their fur to make into coats. Their parents, Pongo and Perdita, set out to save their children from Cruella, all the while rescuing 84 additional puppies that were bought in pet shops, bringing the total of Dalmatians to 101.
Originally released to theaters on January 25, 1961, by Buena Vista Distribution, One Hundred and One Dalmatians was a box office success, pulling the studio out of the financial slump caused by Sleeping Beauty, a costlier production released two years prior. Aside from its box office revenue, its commercial success was due to the employment of inexpensive animation techniques—such as using xerography during the process of inking and painting traditional animation cels—that kept production costs down. It was remade into a live-action film in 1996.
Hungarian Summary / Összefoglaló:
A 101 kiskutya helyes, pettyes ebei több generáció szívébe lopták már be magukat, ami nem is csoda, hiszen e Disney-klasszikus nemcsak remek történetével, de a humor és a kaland különös keverékével is elvarázsolja a nézőt.
Szörnyella de Frász, Walt Disney egyik leggonoszabb, legmókásabb figurája indítja be a bundaborzoló kalandokat, amikor London összes apró dalmatáját – köztük Pongó és Perdita 15 kölykét is – elrabolja. Pongó, a kutyavilág apraja-nagyja és néhány más állati hős segítségével izgalmas útra indul, hogy megmentse az apróságokat a szörnyű végtől. Kutya legyen, aki nem nézi sokszor újra!

Korhatár nélkül megtekinthető.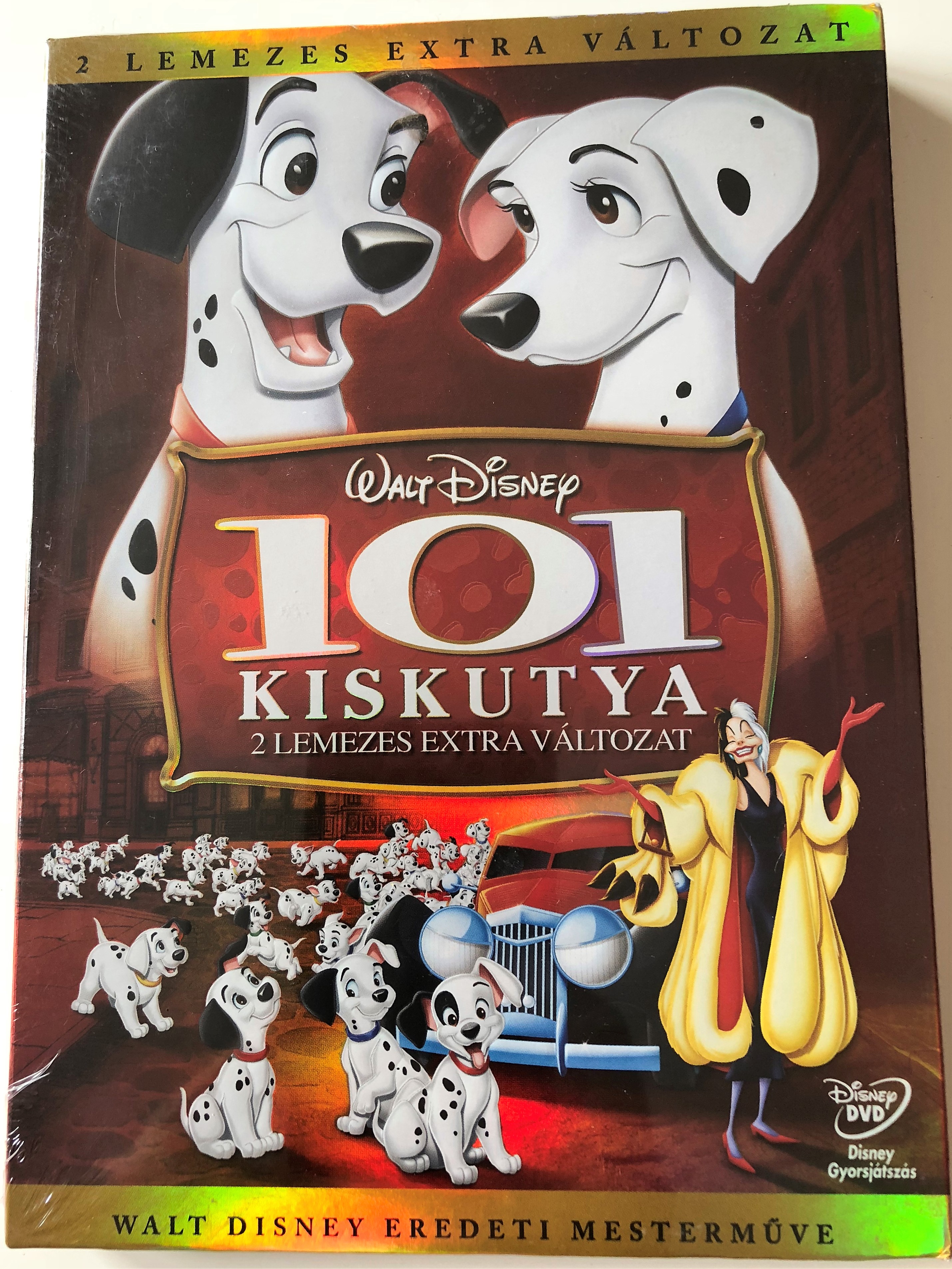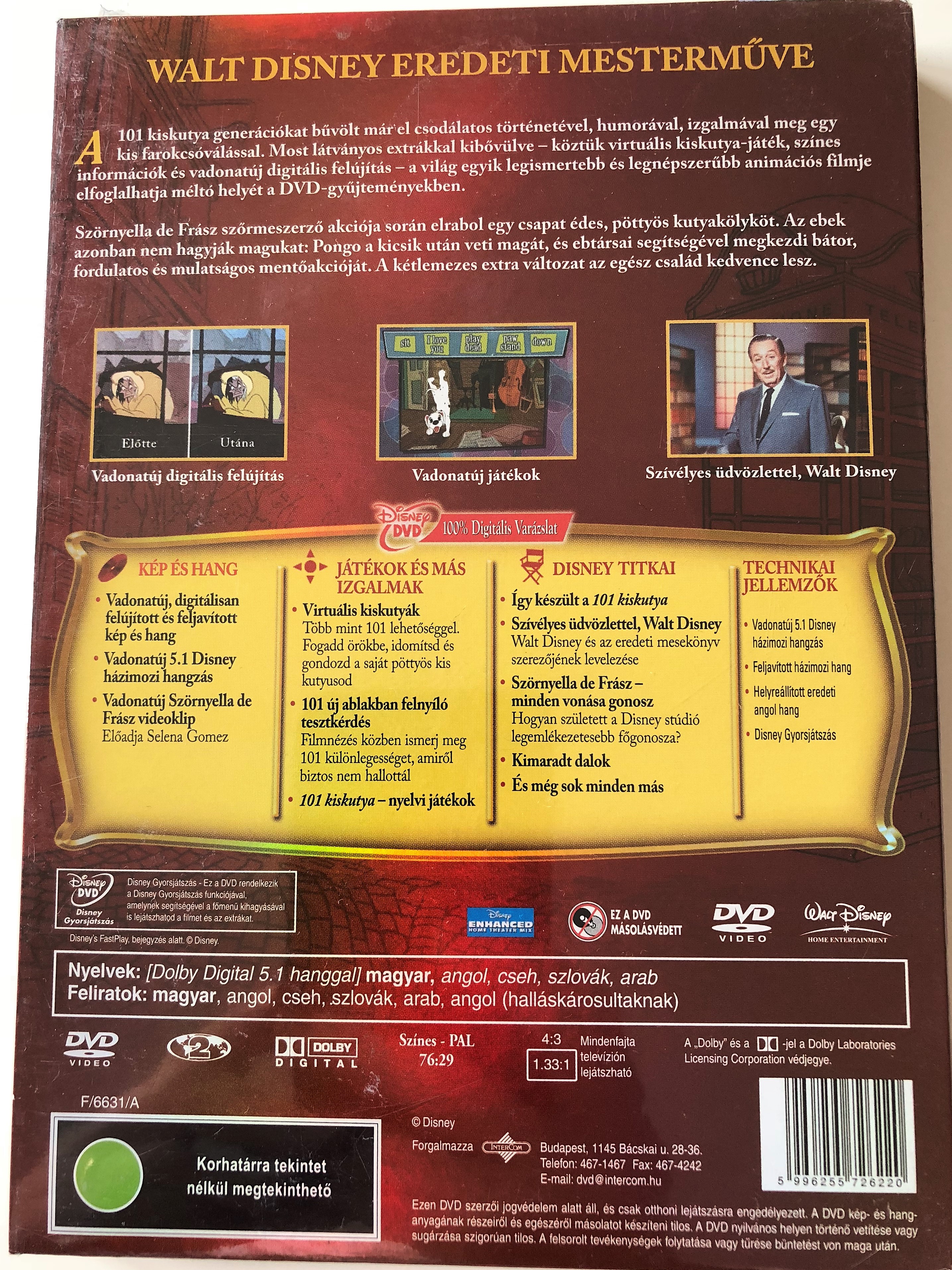 Voice cast
Rod Taylor as Pongo, Roger's pet, Perdita's mate, and the father of 15 of the 99 puppies.
Cate Bauer as Perdita, Anita's Dalmatian pet, Pongo's mate and the mother of 15 of the 99 puppies.
Betty Lou Gerson as Cruella De Vil, a cruel and eccentric heiress who has Pongo and Perdita's puppies kidnapped with the intention of making fur coats out of them. She has an obsession for pelts, but is only shown wearing a single, voluminous white coat. Beneath this, she wears a skintight black dress. Cruella smokes constantly and drives a long red and black car based on a 1934-36 Mercedes-Benz 500K Cabriolet. She was also Anita's former schoolmate, which is why Anita assumes good-faith that Cruella is well-meaning despite her eccentric behavior. Roger, however, is far less trusting, and suspects her of being the one to kidnap the puppies (which she did). Gerson also voiced Mrs. Birdwell, a contestant on the show "What's My Crime?". Mary Wickes served as Cruella's live-action model.
Ben Wright as Roger Radcliffe, Pongo's "pet" (owner) and Anita's husband. He works as a songwriter and later becomes rich when creating a song about Cruella de Vil. Bill Lee provided Roger's singing voice.
Lisa Davis as Anita Radcliffe, Perdita's owner and Roger's wife. Helene Stanley served as Anita's live-action model.
Martha Wentworth as Nanny, The Radcliffes' maid. She is very maternal and fussy, detests Cruella, has no patience for teasing, and is very attached to the puppies, but worthless in a crisis except to give the alarm. Wentworth also voiced Queenie, one of three cows who help the puppies when seeking shelter from the cold, and Lucy, a goose who helps send the word along about the puppies.
Frederick Worlock and J. Pat O'Malley as Horace and Jasper, respectively, Cruella's comic relief henchmen who carry out the kidnapping of the Dalmatian puppies. Jasper is tall and thin, while Horace is short and fat; otherwise, they are obviously fraternal twin brothers. They argue often. Although they appear to be stupid, Horace appears to be the more intelligent of the two, but is absolutely intimidated by his brother, who has the more ready tongue. Jasper has a closed mind to the possibility of sapience in dogs — as well as the equal possibility of cleverness in his brother. Jasper drinks alcohol, whereas Horace eats sandwiches. Both enjoy watching a weekly television program called "What's My Crime?", wherein the misdeeds of lawbreakers are guessed by a panel of contestants. One of the guest stars of this program, Percival "Meathead" Fauncewater, is an acquaintance of theirs. O'Malley also voiced The Colonel, a sheepdog who aids Pongo and Perdita in finding the puppies. Worlock also voiced Inspector Craven, a contestant on "What's My Crime?"
Thurl Ravenscroft as The Captain, a horse who also aids Pongo and Perdita in finding the puppies.
David Frankham as Sergeant Tibbs, a tabby cat who is the most prominent in masterminding a rescue mission to save the puppies from Cruella.
Mimi Gibson as Lucky, a runty puppy of Pongo and Perdita who nearly dies after being born. He is given the name "Lucky" because of being revived by Roger. He loves watching TV, and is portrayed as a troublemaker.
Barbara Baird as Rolly, a puppy who is always hungry, and is shown as pudgier than the rest of the puppies. His collar is tight around his neck with his fat bunched up around it.
Mickey Maga as Patch, a puppy who loves Thunderbolt and has a spot on his eye. Patch is aggressive, barking and growling, but is often frightened by Cruella de Vil. He is the star of the animated sequel, 101 Dalmatians II: Patch's London Adventure.

Sandra Abbott as Penny, the only puppy not named for her appearance or habits. She is one of only two female pups, the other being Freckles.

Mary Wickes as Freckles, a puppy who has a pattern of spots over the bridge of her nose resembling freckles on a human child. Freckles is shown very tired, or asking many questions.
Tudor Owen as Towser, a bloodhound who aids Pongo and Perdita in finding the puppies.
George Pelling as Danny, a Great Dane who aids Pongo and Perdita.
Queenie Leonard as Princess, one of the three cows who help the puppies when seeking shelter from the cold.
Marjorie Bennett as Duchess, one of the three cows who help the puppies when seeking shelter from the cold.
Barbara Luddy as Rover, one of the 84 Dalmatian puppies that Cruella kidnapped.
Rickie Sorensen as Spotty, one of the 84 Dalmatian puppies that Cruella kidnapped.
Tom Conway as Collie, who offers the Dalmatians shelter for the night at a dairy farm. Conway also voiced the Quizmaster, the host of "What's My Crime?"
Ramsay Hill as the Labrador Retriever who aids the Dalmatians in making it back to London.
Paul Wexler as Car Mechanic
Basil Ruysdael as Truck Driver
Paul Frees as Dirty Dawson, the villain of The Thunderbolt Adventure Hour, the show that the Dalmatians watch.
Lucille Bliss as TV Commercial Singer, who sings the "Kanine Krunchies" jingle.
Product Reviews
This product hasn't received any reviews yet. Be the first to review this product!