Lila akác / magyar vígjáték, 72 perc, 1934 / Directed by Székely István / Főszereplők: Nagy György, Ágai Irén, Kabos Gyula, Biller Irén, Gózon Gyula, Eszterházy Ilona, Pethes Sándor / Magyar Klasszikusok 20
Lila akác / magyar vígjáték, 72 perc, 1934 / Directed by Székely István / Főszereplők: Nagy György, Ágai Irén, Kabos Gyula, Biller Irén, Gózon Gyula, Eszterházy Ilona, Pethes Sándor / Magyar Klasszikusok 20

Product Description
Lila akác / magyar vígjáték, 72 perc, 1934 / Directed by Székely István / Főszereplők: Nagy György, Ágai Irén, Kabos Gyula, Biller Irén, Gózon Gyula, Eszterházy Ilona, Pethes Sándor
Magyar Klasszikusok 20 Regifilm Sorozat
Szep Erno Regenyebol!
Szerelem az akacfak alatt!
UPC 5999544560758
Lila akac / Region 2 - Hungarian Film / Magyar Klasszikusok 20. DVD
magyar vígjáték, 72 perc, 1934
Actors / Főszereplők: Nagy György, Ágai Irén, Kabos Gyula, Biller Irén, Gózon Gyula, Eszterházy Ilona, Pethes Sándor

Director: Szekely Istvan
Format: PAL, Import
Language: Hungarian
Region: Region 2 (Read more about DVD formats.)
Run Time: 72 minutes
Tóth Manci, a primadonnaálmokat szövögető kis varrónő a városligetben, egy hatalmas lila akác alatt ismeri és szereti meg Csacsinszky Pált, a szegény, de nagyreményű költőt. Pali viszont Bizonyosné Lola iránt érez lírai szerelmet, az úriasszony azonban csak játékszernek tekinti és csapodár élvetegségével hamar kiábrándítja. A felejteni akaró Pali Lezsi úr kaszinójában talál rá az új táncos csillag Mancira. Mire rádöbben, hogy Manci hozta életébe a tiszta szerelmet és az ártatlan ifjúságot, a lányt már világ körüli turnéra viszi a vonat.
A filmet 1934. szeptember 6-án mutatták be.
A közönség nem tudta elfogadni ezt a szomorú befejezést, ezért a producer kívánságára happy endre változtatták. Csak ez a változat maradt fenn.
Lila akac / Region 2 PAL DVD / Audio: Hungarian / Actors: Kabos Gyula, Agai Iren / Director: Szekely Istvan / 72 minutes 5999544560758 5999016344275 Region 2 encoding (This DVD will not play on most DVD players sold in the US or Canada [Region 1]. This item requires a region specific or multi-region DVD player and compatible TV.) Toth Manci, a primadonnaalmokat szovogeto kis varrono a varosligetben, egy hatalmas lila akac alatt ismeri es szereti meg Csacsinszky Palt, a szegeny, de nagyremenyu koltot.
THIS IS A REGION 2 – PAL FORMAT DVD M

OVIE



IT WILL PLAY IN A "MULTI REGION " DVD PLAYER, WILL NOT PLAY

ON REGULAR

USA DVD PLAYERS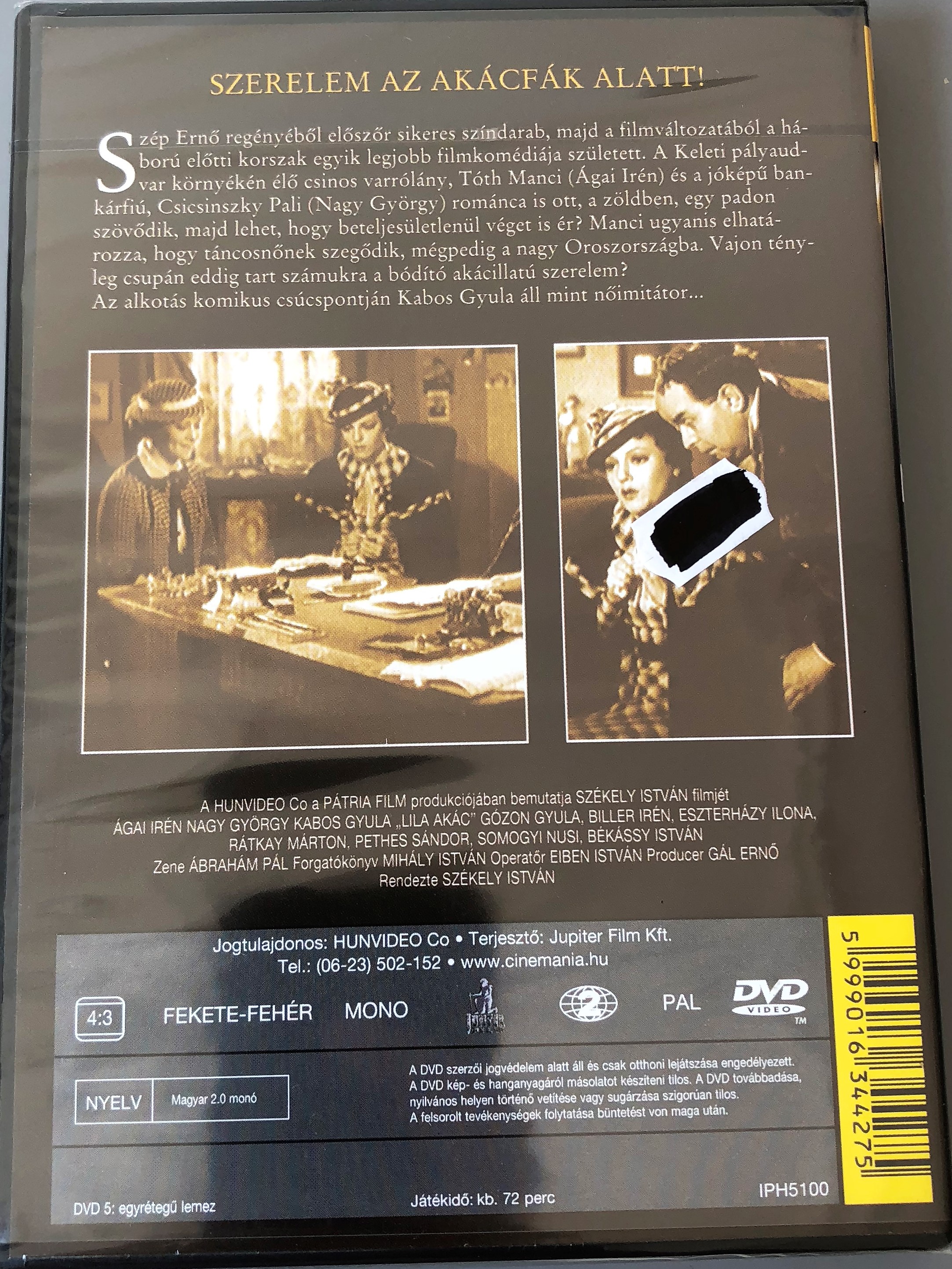 Product Reviews
This product hasn't received any reviews yet. Be the first to review this product!